I didn't want to post any of these at the time for fear of having ass sued, but I figure now the show is about two years old and TPC are only interested in raping the ULTRA GALAXY franchise...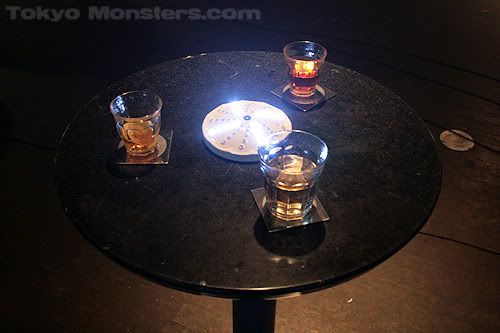 This is the table where I "acted". The light was cool; it changed patterns every time you pressed it. The continuity guy was probably sweating like hell all the time we were there. I was the only idiot who tasted the drink.
Guys checkin' the monitor. In the background they were projecting what turned out to be the end credits of the series. We didn't realise this at the time and were making fun of how stupid the club was for playing such a thing.
The set at lunch time. Everyone fucked off. I went upstairs and discovered one of the other extras was a woman who had been in a bunch of Godzilla movies I used to drool over as a kid. She thought this was an episode of Kamen Rider.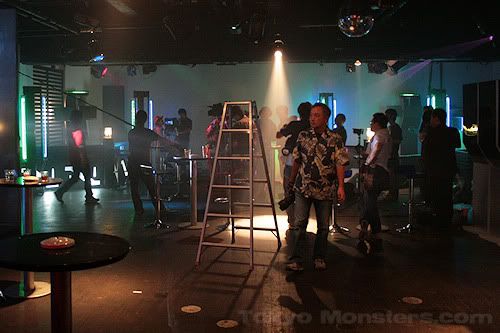 This is Hashimoto-san. He's a still photographer. He said he's been working on the Ultra series since the time of ULTRAMAN TIGA.
This is Tomohito, or "Tom". He plays Agent K. He's a nice guy. I met up with him again last year along with some guy from some show I never watched ("Super Rescue Force" or something.) I think he was planning to go to America to study English.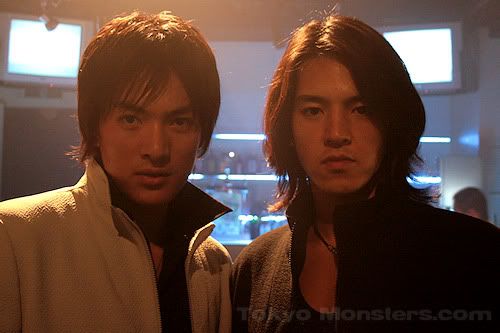 Here's Agent K again, this time with his partner Agent Jin (aka Ultraseven X)
Jin and K again, pretending to be cool.
Here is K running towards me. I'm not sure what his intentions were, but Jin seems to find it funny.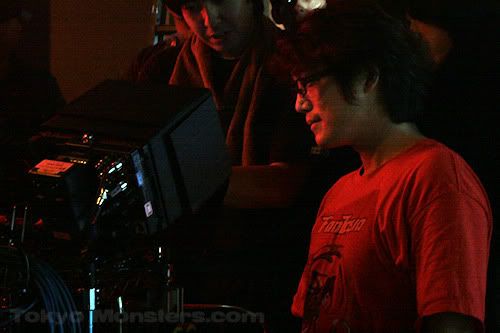 Director Yagi checks the latest shot on the monitor. Yagi is cool. He was also the series organizer. Really the mastermind behind the whole show.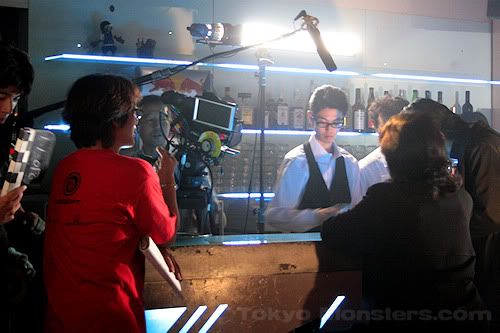 Yagi setting up the next shot. This one's for episode 2, I think. They shot all the bar stuff on that same day.