General Info About Ultraseven X
Posted: Thu Mar 27, 2008 4:04 pm
Ultraseven X
is a modern remake of
Ultraseven
, one of the most popular installments in the Ultra Series. It is also the first Ultra series to have been created with an adult audience in mind, and has a darker style and plot than most other shows of its kind. It ran from October 5, 2007 to December 21, 2007.
The show revolves around a young man, who awoke from a strange dream to discover that he has no memory of who he is or what kind of life he had led up to that point. Moments after he awakes, he is approached by a mysterious woman in white. She gives him a bizarre pair of glasses, and asks him to save this strange new world - then pushes him straight into it. After being found and captured by an defense organization named DEUS, this young man, codenamed Jin, investigates and battles against the alien invaders of Earth, as well as his anxieties and doubts about the new world around him.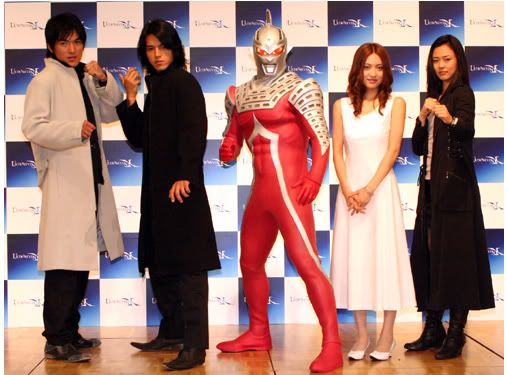 From left to right: K (played by Tomohito Wakizaki), Jin (played by Eriku Yoza), Ultraseven X (Suit Actor: Hiromi Shinjou), Lady in White (played by Saki Kagami), S (played by Anri Ban)
Characters:
Jin/Ultraseven X: An agent of DEUS. Due to his memory loss, he does not remember any personal details; even his name is unknown to him. However, he is more concerned with protecting the Earth from those who wish to harm it, whether they be alien or human. He uses a strange pair of glasses called the Ultra Eye to transform into a giant red creature, Ultraseven X, and battles against the enemies of earth - strangely, he is rarely noticed by by-standers, who only pay attention when told to by the constant news broadcasts blaring throughout the city.
K: A fellow agent of DEUS who often executes missions with Jin, and considers himself Jin's ally. He is generally an easygoing guy, but he can become deadly serious under pressure.
Lady in White: The mysterious young lady who gave Jin the Ultra Eye. She appears from seemingly nowhere, and constantly pleads for Jin to "save this planet", using information about his past as a bargaining chip.
S: Another agent of DEUS who acts separately from Jin or K.
Commander of DEUS : He informs agents of their missions through the Video-Corder, or VC, on every agent's wrist.
What's Unique About
Ultraseven X
:
Much like other installments in the Ultra Series, the shows' most exciting aspect is the large monster battle that appears in nearly every episode, and
Ultraseven X
is faithful to that part of the formula.
However, as a more mature interpretation of the Ultraseven saga, the show has a decidedly darker approach to the idea of global defense.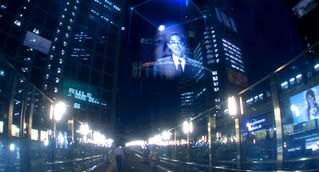 Rather than a ragtag group of scientists, the task of defending the earth falls upon the detached government that seems to be everywhere at once, and a man who has no other option but to follow them. The world that is presented seems tense and subdued; it plays the role of a utopia, but only by the smallest of margins.
The series is composed of 12 episodes. Some have noted that this is an unusually short amount; others have said that it doesn't wear out it's welcome. Whatever the case, it definitely stands out as one of the few experimental entries in the series, and it doesn't take much time to tell whether or not it appeals to you.
Episode List
1 "DREAM" October 5, 2007
2 "CODE NAME "R" October 12, 2007
3 "HOPELESS" October 19, 2007
4 "DIAMOND "S"" October 26, 2007
5 "PEACE MAKER" November 2, 2007
6 "TRAVELER" November 9, 2007
7 "YOUR SONG" November 16, 2007
8 "BLOOD MESSAGE" November 23, 2007
9 "RED MOON" November 30, 2007
10 "MEMORIES" December 7, 2007
11 "AQUA PROJECT" December 14, 2007
12 "NEW WORLD" December 21, 2007
List of Seijin (Aliens)
Spoiler

This information was taken from the Ultraseven X Series Guide, written by James Ballard and hosted on Sci-Fi Japan. The thread for it can be found

here.

Episode 1: Galkimes

Episode 3: Alien Markind

Episode 4: Peginera

Episode 5: The Vo-Da, the Orifam*

Episode 6: The "Soul of Light"**

Episode 7: The Vairo, Vadoryudo

Episode 8: Hupnath

Episode 9: The Therianthrope, Jyuujin

Episode 12: Grakyess, Mecha-Grakyess

*The formal name for this species was never mentioned - there were only described as refugees from the Alpha System. This is actually the name of the mineral that these refugees idolize. However, with the way in which the mineral was described - that it was their guardian deity, their everything - it would be fair to use this as a substitute name.

** This Seijin also has no name, but this is the nickname that was given to it by Jun and his friend Takao.