This was episode 16 so I guess another batch of Agito is done.

A bit average episode, but then again Agito is still my favorite Kamen Rider series. The Gills transformation this episode was not one of his best.
I love deadlines. I like the whooshing sound they make as they fly by. - Douglas Adams
ZAIA Tool

Posts: 1994
Joined: Wed Dec 26, 2007 9:18 am
Favorite series: Gaim
2nd Favorite Series: Agito
Alignment: Lawful Good
Location: Unknown
I don't think the screenwriters had figured out what to do with Gills' transformation until much later in the series.
Salami Commander
Posts: 479
Joined: Fri Jun 20, 2008 6:04 pm
Favorite series: Garo
2nd Favorite Series: Nexus
Favorite Actor?: Konishi Ryousei
Alignment: Neutral Good
My boom: K-Dramas
Type: INFP Healer
Anubis's weapon summon was soooo cheap. They could have at least shone a light on his head to represent a warp opening. As it was, the prop master might as well walked up and handed it over.

Otherwise an interesting episode. A little more of the conspiracy is being shown, and Mana ... I'm trying to figure out if the tape scared her or if she knows somehing.
ZECT

Posts: 5230
Joined: Tue Dec 15, 2009 1:47 pm
Favorite series: Kyoryuger
2nd Favorite Series: W
Quote: "When I first started, I knew everything about nothing and have progressed in the subsequent two decades, realising that now I know practically nothing about everything"
The thing I like about Gills transformation is that it portrays the nature of it. He is mutating into this form vs the light that envelopes Agito.

Sometimes, this thing of Agitos were it ends before the fight pisses me off. Anubis survived two episodes, which is good for a motw/f in Kamen Rider.
Salami Commander
Posts: 431
Joined: Tue Mar 18, 2008 7:15 am
Gender: Apache Attack Helicopter
Favorite series: Decade
2nd Favorite Series: Kabuto
Dreamy: Smart Brain Lady
Favorite Band: Bennie K
Alignment: Chaotic Good
Contact:
gotta keep in mind at this point they weren't even sure if it was going to be a stand alone series or a sequel to kuuga at this point in time.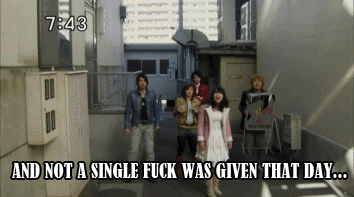 Go Go!
Posts: 56
Joined: Sun Aug 20, 2017 1:41 pm
Alignment: Chaotic Neutral
Type: ENTJ Fieldmarshal
That actress you posted in the topic was gorgeous back then.

I wonder what she looks like now?
Team Baron

Posts: 32592
Joined: Mon Dec 10, 2007 8:33 pm
Gender: Toast
Favorite series: All of them
Alignment: Neutral
My boom: stick
Quote: "Are you the new monarch, or are you just a pawn of fate?" - Emerald Herald
Type: ISFJ Protector
Location: Yami ni umare, yami ni kisu
Contact: