Team Baron

Posts: 30412
Joined: Mon Dec 10, 2007 8:33 pm
Male: Yes
Favorite series: All of them
Alignment: Neutral
My boom: stick
Quote: "Are you the new monarch, or are you just a pawn of fate?" - Emerald Herald
Type: ISFJ Protector
Location: Yami ni umare, yami ni kisu
Contact:
More Aki stuff. G3 and Gills meet for the first time?
T-N Hakase
Posts: 1289
Joined: Tue Dec 13, 2011 4:18 pm
Poor Gills. Not only did he found out that he was being used by Aki, but also being the target of what was meant for someone else is just bad luck.
ZECT

Posts: 4904
Joined: Tue Dec 15, 2009 1:47 pm
Male: Yes
Favorite series: Kyoryuger
2nd Favorite Series: W
Quote: "When I first started, I knew everything about nothing and have progressed in the subsequent two decades, realising that now I know practically nothing about everything"
That scene where Gills trashes the cops is a favourite of mine. Payback after they shot him while fighting the Lord.
ZAIA Tool

Posts: 335
Joined: Tue Mar 18, 2008 7:15 am
omg are u a girl?: Yes
Favorite series: Decade
2nd Favorite Series: Kabuto
Dreamy: Smart Brain Lady
Favorite Band: Bennie K
Alignment: Chaotic Good
Contact:
How did I not notice you guys started Agito..

i feel SOOO stupid.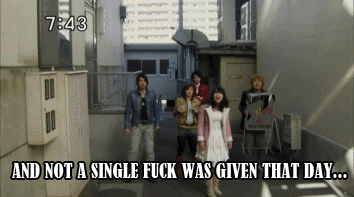 Hyakkiyakou wo Buttagiru
Posts: 177
Joined: Mon Jul 05, 2010 4:13 pm
Male: Yes
Favorite series: Ultraman Nexus
2nd Favorite Series: Den-o
Dreamy: Hana-san
Alignment: Lawful Evil
My boom: Mortal Kombat
Quote: "Shut up and eat an umaboshi!" - Inui Takumi
If Hikawa-san is the protagonist of the series (shut up, he is) and Shouichi is the passing through rider, then Ryou is clearly the underdog, really, the guy just can´t get a break.
I just loved the part when Hikawa said "i am starting to suspect that Houjo-san might not be a good person", really? you punched him in the face a few episodes ago and just now you start to suspect he is twisted? then why did you punched him? is his face really that puncheable?. Nahh i am just kidding Hikawa-san, never change

.