Looks like this takes place after the 199 movie. Spoilers?
Huh, I didn't know Genta had a brother. Seems kind of goofy... Hey!
No! That's a bad touch!
Preview
Isn't that AbareKiller? I'll be interested in knowing what he has to do with GokaiSilver's origin story
Trivia:
伊狩鎧 Ikari Gai
So the kanji that make up his name are:
I (Itay, flashy, gallant)
Kari (Hunt)
Gai (Armor)
Wait, Gai means armor?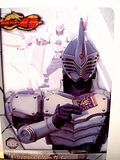 Oooh...
Guess I should mention that yellow is a color for "cheerful" in Japan
Gai's seems to have a lot of lines where he talks about doing something in a gingin way. Gingin is a sound word that means to do something enthusiastically. Of course, gin means silver.