Team Baron

Posts: 30794
Joined: Mon Dec 10, 2007 8:33 pm
Favorite series: All of them
Alignment: Neutral
My boom: stick
Quote: "Are you the new monarch, or are you just a pawn of fate?" - Emerald Herald
Type: ISFJ Protector
Location: Yami ni umare, yami ni kisu
Contact:
Infinity
Posts: 41
Joined: Sun Jun 06, 2010 10:03 pm
Quote: "grandma said...."
they are trolls in disguise
KAMEN RIDER OOO loves Reggae and Jamaica
ZECT

Posts: 5080
Joined: Tue Dec 15, 2009 1:47 pm
Favorite series: Kyoryuger
2nd Favorite Series: W
Quote: "When I first started, I knew everything about nothing and have progressed in the subsequent two decades, realising that now I know practically nothing about everything"
Freaky ass clown. Doesn't help when he gets freaky giant as well.
Hyakkiyakou wo Buttagiru
Posts: 159
Joined: Thu Sep 30, 2010 8:46 am
Favorite series: Den-O
2nd Favorite Series: Faiz/W
Alignment: Chaotic Good
Quote: When in doubt, Rider Kick.
I almost had a flashback to Crazy Spider Fangire when I first saw the handpuppets, but then he just went and got all freaky.
Go Go!
Posts: 65
Joined: Sun Oct 03, 2010 1:32 pm
Favorite series: Den-o
2nd Favorite Series: W, Kabuto, Faiz
Alignment: Chaotic Good
Quote: Obachan said this... "My evolution is faster than the light. Nothing in the whole universe can keep up with my evolution.
Location: Texas no Seki
Giant Creepy Clown man.....oh yeah, it's time to stay away from the circus.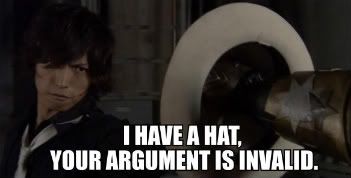 Infinity
Posts: 41
Joined: Sun Jun 06, 2010 10:03 pm
Quote: "grandma said...."
this episode is messed up in a good way, just like having a fetish over 2 girls and 1 cup video.
KAMEN RIDER OOO loves Reggae and Jamaica
Mega
Posts: 335
Joined: Thu Feb 07, 2008 8:50 pm
Favorite series: Rider-Sentai
2nd Favorite Series: ppgz, mrr, too many
Dreamy: fourze girls, luka
Favorite Actor?: jirou zanki garulu
Favorite Band: nightwish
Alignment: Chaotic Neutral
My boom: MLP:FIM
Quote: just because you're a genius doesn't mean your a smart guy- PPG narrator
just because i'm an idiot doesn't mean i'm stupid- Spencer Shay
Location: red deer, alberta, canada
Contact:
anyone else notice that kaoru's boss was kido the coffee guy from kiva.
Anyone remember when the news didn't want to make you punch the nearest thing to you, me neither.
Humongous
Posts: 1161
Joined: Wed Dec 12, 2007 4:07 pm
Favorite series: Ultra Seven
2nd Favorite Series: Ultraman Tiga
Dreamy: Sakura Nishihori
Favorite Band: Akira Ifukube
Alignment: Chaotic Evil
My boom: Ultra Seven
Location: Somewhere on Earth
Whoever designed this Horror must've have seen Killer Klowns from Outer Space, certainly looks like it was taken right out of the movie. I found it interesting that Kaoru's looking for her father's storybook & ends up getting a job at a amusement & was dressed up as a princess when she was attacked by the Horror.
Defeat the Great Fire-Breathing Monster... use your Ultra Beam and... STRIKE!