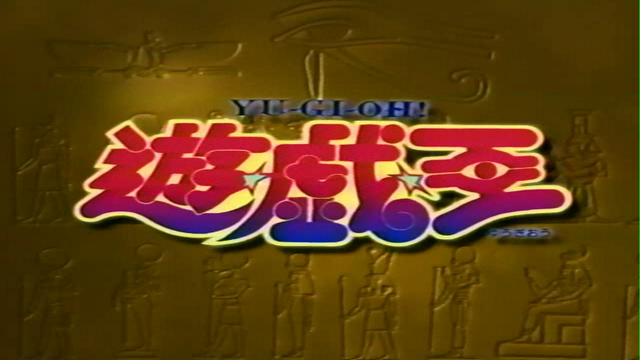 Yu-Gi-Oh! (Meaning "King of Games") is the title of the first anime series based on the Yu-Gi-Oh! manga. It was produced by Toei Animation, and aired on TV Asahi from April 4, 1998 to October 10, 1998 for 27 episodes. There was also a short film released on VHS on March 6th, 1999.
The show takes place in modern-day Japan, and focuses on the life of Mutoh Yuugi, a timid young man who lives with his grandfather, Mutoh Sugoroku, in a game shop. He grew up surrounded by games, and could easily be described as a "game freak". He has a natural affinity to any type and kind of game, although he doesn't particularly excel at any of them. His love of games is what gave his grandfather, Sugoroku, to give him a present: the Millennium Puzzle, an excavated artifact from Egypt.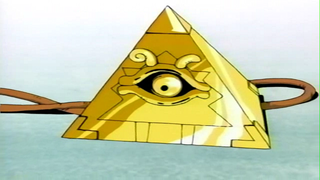 After solving the puzzle, a change begins to occur in Yuugi. Yuugi is prone to being bullied by those who are stronger than him or who hold influence over him, such as teachers, thugs, etc. However, in times of intense stress, a spirit emerges from the puzzle and overwhelms Yuugi both physically and mentally, claiming control over his body. This spirit is called Yami no Yuugi, or Dark Yuugi, for his somewhat cruel and sadistic tendencies; whenever Yuugi is in mortal danger, Dark Yuugi emerges and traps the attacker in a Dark Game (Yami no gēmu(?)),
and is more than willing to penalize them if they break the rules, which are usually stacked in his favor.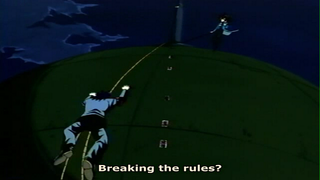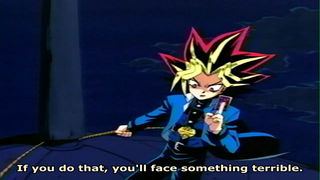 These penalties usually involve some sort of torture based on the attacker's crime or abusive behavior.
At first, Yuugi is unaware of his other self, but as he makes friends, they notice the change in his personality and he believes that it only makes it even harder for him to make friends. But as he tries to hide the existence of the spirit of the puzzle, he and his friends slowly learn of its true nature, as well as the effects of solving it in the first place...
(From left to right: Honda Hiroto, Jonouchi Katsuya, Mutou Yuugi, Mazaki Anzu, and Nosaka Miho)
Characters
(Name - Seiyuu):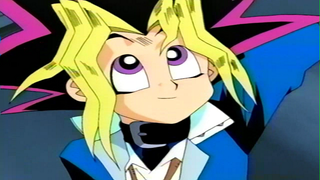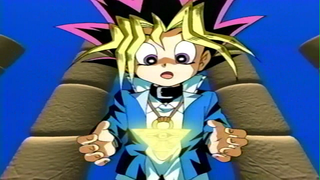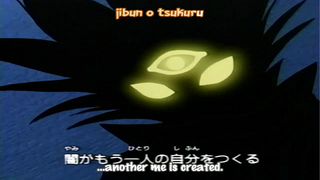 Mutou Yuugi / Yami No Yuugi (Dark Yuugi) - Ogata Megumi
A timid young man who plays games, specifically those that can be played with little physical effort. He is not athletic, and declines playing sports with most other children his age because he thinks that he would only slow them down; as a result, he usually plays with trinkets brought from home. He doesn't hold grudges against others, which makes him an easy target for bullies. However, ever since he solved an ancient relic called the Millennium Puzzle, he looses consciousness during times of stress and becomes overwhelmed by a dark spirit. This spirit, referred to as Yami no Yuugi or Dark Yuugi, has a slightly sadistic nature; although he usually acts in Yuugi's defense, he also seems to gain pleasure from seeing his assailants being tortured, often with the very things that they attacked him for.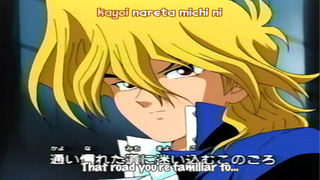 Jonouchi Katsuya - Morikawa Toshiyuki
Originally, he was just a thug who hated seeing Yuugi obey everyone else. He stole Yuugi's puzzle to "teach him how to be a man", but was bullied in turn, and was saved by Yuugi. After this, he became friends with Yuugi. He's also a good friend of Honda.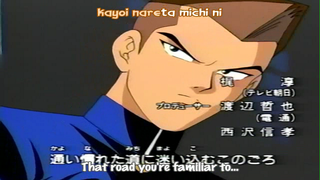 Honda Hiroto - Okiayu Ryotaro
He is a friend and accomplice of Jonouchi. He reluctantly helped him tease Yuugi early on, and eventually talked him into returning the puzzle. He is also a member of the Beautification club at his high school, and tends to take his job very seriously.
Mazaki Anzu - Kakazu Yumi
She sticks up for Yuugi whenever he gets pressured by Jonouchi or Honda, and treats him like a little brother. Because of this, she tends to ignore the fact that he has a crush on her.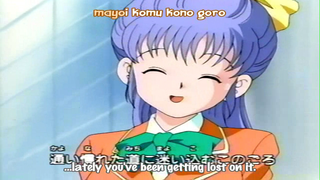 Nosaka Miho - Nogami Yukana
Miho, the student librarian, is a shy girl who generally tries to avoid conflict. However, she cares deeply for her friends and tries to help them whenever they get into trouble.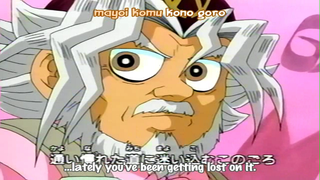 Mutou Sugoroku - Aono Takeshi
Yuugi's grandfather, and owner of the Kame (Turtle) Game Shop. He gave Yuugi the unsolved Millennium Puzzle.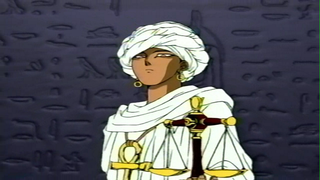 Shadi - Shiozawa Kaneto
He is mysterious man with strange powers that can warp time and space. He carries around a golden scale that has the same type of design as Yuugi's puzzle.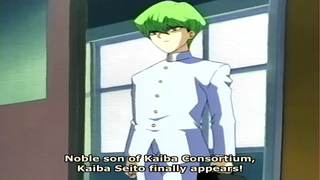 Kaiba Seto - Midorikawa Hikaru
He is the heir to the Kaiba Consortium, and a national champion in the collectable card game Duel Monsters. In order to keep up his noble appearance, he plays the role of the gracious host in public, although his behavior still comes off as condescending. However, out of the view of the public, he is a ruthless businessman who wouldn't hesitate to use underhanded and even deadly methods to get what he wants.
Bakura Ryo - Kashiwakura Tsutomu
He's another classmate of Yuugi and his friends. He acts friendly to them, but is more of an acquaintance that an actual friend to them. He has a medallion from Egypt that looks very similar to Yuugi's Millennium Puzzle, and has the same mystic properties.
Trivia
This series is an adaptation of the manga of the same name, which ran in Weekly Shonen Jump in Japan from 1996 to 2004. It converted storylines from the first volume up to the seventh (with some parts from the eighth volume). However, the anime took some liberties. There are significant differences between the original manga series and the anime. Manga plots were re-written so that they could take up an entire episode time. Also, the level of violence was reduced between the manga and the anime. Finally, a minor character in the manga, Miho Nosaka, became a main character in the first series along with Yuugi Mutou, Katsuya Jonouchi, Anzu Mazaki, and Hiroto Honda.
This was the first anime adaptation for the Yu-Gi-Oh! manga series. There are other adaptations - Yu-Gi-Oh! Duel Monsters (known simply as Yu-Gi-Oh! in the U.S.) and it's spinoffs Yu-Gi-Oh! Duel Monsters GX and Yu-Gi-Oh! 5Ds were made by a separate animation company, Studio Dais, and are officially unrelated. However, they do share a few plot points, and most of the details from the original manga that were ignored or condensed in the other series are explained in more detail in this one.