Forum rules
Uchuu Sentai KyuuRanger Wiki Link
< Jyuohger
| KyuuRanger |

Lupin VS Pat
Spoiler rules
: No posting information about unreleased stuff. Preview and movie promo discussion must be in marked spoiler tags.
Strongest Brave

Posts: 302
Joined: Sun Jan 03, 2016 6:52 pm
Male: Yes
Favorite series: Timeranger
2ndFavoriteSeries: Fourze
TV-N should put TL's as to what the signs mean

Currently watching:
- SS Lupin VS Pat, Toqger, Dekaranger
- KR Drive, Build
Finished:
- SS Shinkenger, Gokaiger, Kyoryuger, Jyuohger, Kyoryuger Brave, Goseiger, Kyuuranger, Timeranger
- KR Decade, Double, Fourze, Gaim, Ghost, Amazons S1+S2, Ex-Aid
---
Rising to the Top

Posts: 2460
Joined: Wed Sep 12, 2012 8:18 am
Male: Yes
Favorite series: 牙狼<GARO>
2ndFavoriteSeries: 海賊戦隊ゴーカイジャー
Favorite Actor?: 小宮有紗
Favorite Band: JAM Project
Alignment: Neutral Good
My boom: 日本語と特撮です。
Contact:
---
does someone else think the cape from don armage is the same as young crying lucky's?
---
01
Posts: 23
Joined: Wed Jan 30, 2008 2:21 pm
Male: Yes
Favorite series: Kamen Rider Den-O
Favorite Band: m-flo
Alignment: Neutral Good
Considering the half-filled circle always looks like it's on some matter of body... does anyone else think it's a nod to Ohranger's little flail dude that was used to make monster's grow? Considering the Machine Empire Baranoia was supposed to have conquered galaxies as well, I think it's an amusing touch if it's true. Even the little half-filled fish thing looks like Kocha's body!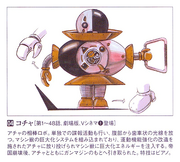 ---