---
---
Save the life
Posts: 1362
Joined: Tue Dec 11, 2007 9:46 pm
omg are u a girl?: Yes
Dreamy: Nakatsu Shuichi
Favorite Actor?: Matsuyama Kenichi
Favorite Band: Gazette
Alignment: Chaotic Neutral
My boom: Hayami's trendy hat
Location: Batcave
Contact:
-baseball launched- -Tachibana turns his head-

Tachibana: GYAAaaAAAaaAaAHHH

Priceless. xDD
---
---
Mega
Posts: 402
Joined: Fri Dec 28, 2007 10:03 am
Male: Yes
Favorite series: Den-O
2nd Favorite Series: Kabuto
Dreamy: Momotaros
Favorite Actor?: Hiro Mizushima
Favorite Band: Rider Chips
Alignment: Chaotic Evil
My boom: Setsuna F Seiei
Location: Path of Heaven
Nice 1 takenoko sempai, really funny website XD
---
Hyakkiyakou wo Buttagiru
Posts: 169
Joined: Sun Sep 07, 2008 8:20 pm
Male: Yes
Favorite series: Kiva
2nd Favorite Series: Go-Onger
Dreamy: Mio Suzuki
Favorite Actor?: Hidenori Tokuyama
Favorite Band: Tetra-Fang
Contact: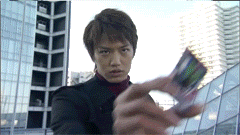 Kamen Ride : Decade

C
l
i
m
a
x
Form Completed
---
Anime skin is so smooth
Posts: 25
Joined: Fri Mar 12, 2010 11:36 pm
Male: Yes
Favorite series: Blade and Kabuto
2nd Favorite Series: Kiva and Faiz
Dreamy: Kotoha!!
Favorite Actor?: Hiro Mizushima!!
Favorite Band: ~ uverworld ~
Alignment: Lawful Neutral
My boom: vocaloid~ fourze~
Quote: ~ sore dake da ~
~ 宇宙キタ~~~~~~~ ~
Location: SPACE XD
Thanks takenoko sempai!! but I can't really understand other videos there and super leangle????
Onore!
~
Dark Kiva
is not
Evil
~
---
Team Baron

Posts: 29469
Joined: Mon Dec 10, 2007 8:33 pm
Male: Yes
Favorite series: All of them
Alignment: Neutral
My boom: stick
Quote: "Are you the new monarch, or are you just a pawn of fate?" - Emerald Herald
Type: ISFJ Protector
Location: Yami ni umare, yami ni kisu
Contact:
---