Team Baron

Posts: 29513
Joined: Mon Dec 10, 2007 8:33 pm
Male: Yes
Favorite series: All of them
Alignment: Neutral
My boom: stick
Quote: "Are you the new monarch, or are you just a pawn of fate?" - Emerald Herald
Type: ISFJ Protector
Location: Yami ni umare, yami ni kisu
Contact:
---
Hyakkiyakou wo Buttagiru
Posts: 126
Joined: Sun Sep 01, 2013 7:19 pm
Male: Yes
Favorite series: Legends of Tomorrow
2nd Favorite Series: Boku no Hero Academia
Dreamy: I have too many to list xD
Favorite Actor?: Kevin Conroy
Favorite Band: Hanson
Alignment: Neutral Good
My boom: Birds of Prey and the Fantabulous Emancipation of One Harley Quinn
Quote: AH, BLUE SCREEN OF DEATH!!! My mortal enemy!
Type: ESFJ Provider
Location: Tyria
Contact:
So I was watching this episode and I wanted to check up on something I was downloading so I paused the episode and THIS happened to show up when I did.
I still can't stop laughing it for some odd reason. Also, my dog is snoring REALLY LOUDLY where shes "nesting"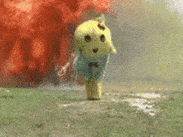 ---