Kamen Rider Kiva
is the latest in the popular
Kamen Rider
series. It is centered around a horror/monster theme. The opening is "Break the Chain" by Tourbillon, which was released on March 26th, 2008. The show debuted January 27th, 2008 and is still continuing its broadcast.
WARNING! MAJOR PLOT SPOILERS WILL ENSUE! READ AT YOUR OWN RISK! WARNING!
In 1986, a group of undead called Fangire appeared in Japan. Noted for their stained glass-like appearance, they are created from the dead and sustain their life by sucking it out of their victims, leaving a transparent corpse. To combat this threat, the Wonderful Aozora organization was created. Despite their efforts, they have very little impact on the Fangire.
Twenty-two years later, the Wonderful Aozora organization still exists, as do the Fangire. Wataru Kurenai is a shy and timid young man who strives to create the perfect violin. He rarely opens up to anyone. Despite his shyness, when a Fangire appears, Wataru transforms to become Kamen Rider Kiva!

This story is unique, as it tells the story from two different times: 1986 and 2008. Episodes will frequent between the two back and forth. Each time has a separate set of characters, with a couple of recurring ones and perhaps the same Fangire of the week will appear in both.
Recurring Characters
Shima Mamoru (Kanayama Kazuhiko): He is the leader and founder of the Wonderful Aozora organization. He gives his subordinates orders to follow and updates them on the current Fangire situation. Shima often compares his body fat percentage with the Café owner.
(He is pictured above in his 2008 and 1986 look respectively)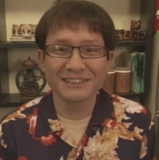 Master (Kinoshita Houka): The owner of Café mald'amour, he allows the Wonderful Aozora organization to use the café as a base. He has a weight loss competition with Shima and has a dog name Buruman, who survives to 2008.
Spoiler

Jirou/Garuru (Matsuda Kenji): He is the last survivor of the Wolfen clan, which was oblitherated by Rook of Checkmate Four, whom Jirou wants to kill in revenge. In 1986, after a brief serial killing of Café mald'amour customers, befriends the 1986 cast and eventually joins Aozora. Unbeknownst to all except Otoya, Jirou is not actually a human. Jirou pays a particular interest to Yuri, who he believes makes a perfect wife to revive the Wolfen clan. Jirou is the Kamen Rider IXA of 1986.
In 2008, Garulu resides in Castle Dran, waiting to be summoned when Wataru needs Garuru Form or Dogabaki Form
Spoiler

Ramon/Basshaa (Ogoe Yuuki): He is the last survivor of the Merman clan. In 1986, his human alias is a shoe shiner. Although he sides with Jirou, Ramon sometimes questions Jirou's willingness to side with humans to accomplish his goals.
In 2008, Basshaa resides in Castle Dran, waiting to be summoned when Wataru needs Basshaa forms or Dogabaki Form
Spoiler

Riki/Dogga (Takigawa Eiji): He is the last survivor of the Franken clan. In 1986, his human alias is a masseur. Like Ramon, Riki aids Jirou. Riki tends to speak monotonously for the few words he does speak.
In 2008, Dogga resides in Castle Dran, waiting to be summoned when Wataru needs Dogga Form or Dogabaki Form
1986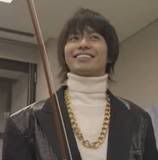 Kurenai Otoya (Takeda Kouhei): Retired violinist and womanizer of all, Otoya is Wataru's father. By accident, he discovers the Fangire due to Yuri. Soon after, he falls in love with her and constantly interferes with her missions. Despite his looks, he's a pretty good fighter when given the tools. He leaves Wataru only the Bloody Rose violin.
Spoiler

Later on, Otoya frequently becomes Kamen Rider IXA whenever he can take the IXA Knuckle from Jirou, willingly or unwillingly.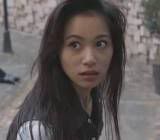 Asou Yuri (Takahashi Yu): An original member of the Wonderful Aozora Organization, as well as the mother of Megumi. Up to this date, she has not been able to defeat a Fangire, but she is very persistent. She always shoots down Otoya's attempts to flirt, calling him an idiot and punching him in the face. Her weapon doubles as both a sword and a whip. She also is afraid of dogs.
Spoiler

Later on, Otoya gave Yuri the IXA knuckle so she can fight Rook, who murdered her mother. However, she is unable to become IXA due to fear.
It is later confirmed that Yuri has died prior to the current story line.
2008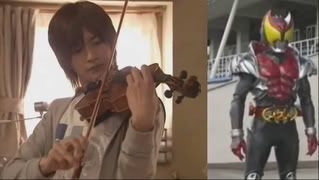 Kurenai Wataru (Seto Koji): The protagonist of the story. He seeks to create the ultimate violin varnish, using almost any and every object known to man. He lives in a house by himself (not including Kivat); however, the failed varnishes give the house foul odors, leading the neighbors to give him a nickname of "Obaketarou" (Ghost boy). He is very timid and only opens up to a few people, but he strives to become more open once he meets Nago. Whenever a Fangire is detected, he fights them as Kamen Rider Kiva.

To transform into a Kamen Rider, Wataru, like his predecessors, must have a henshin sequence. For his henshin sequence, several chains appear around Wataru's waist and form the Kivat Belt. Kivat bites his hand (does not matter which), and streaks of stained glass reach his face. He then places Kivat to perch on the belt, and the sequence is complete.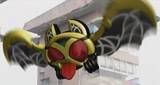 Kivat the Third (voiced by Sugita Tomokazu): He is the being who powers Wataru as Kamen Rider Kiva. Witty, perhaps even bitter, Kivat. admires the works of Amedeo Modigliani; he admires Megumi for her striking resemblance of his masterpieces. Kivat blows all of Kiva's Feustles during battle, and is able to get off the belt during battle. When not battling a Fangire, Kivat will either hide inside a violin carving or stay in a bath with Wataru by floating in a violin-shaped boat.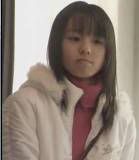 Nomura Shizuka (Koike Rina): Shizuka, for reasons unexplained, is at first the only person Wataru will open up to. She thinks of herself as his mother figure and wants him to open up to people more. She is unaware of his activities as Kiva.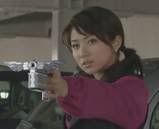 Asou Megumi (Yanagisawa Nana): The daughter of Yuri, Megumi is also a member of the Wonderful Aozora organization. During the day, she makes a living by posing as a model. She starts to like Wataru, oblivious to the fact that he saves her in almost every battle as Kamen Rider Kiva. Megumi and Nago constantly clash for almost no apparent reason, and often argue over Wataru. Her weapon is a blue pistol that shoots slugs, but it also can become a snake sword.
Nago Keisuke (Katou Keisuke): He is also a member of the Wonderful Aozora organization. He believes humans have "infinite potential," whether good or bad. He also acts as a bounty hunter, taking the button of those he has captured. Megumi hates Nago because he behavior makes him appear to have a superiority complex, though Wataru looks up to Nago as his mentor. He is currently unaware of Wataru's alternate identity as Kamen Rider Kiva.
Minor Spoilers:
Spoiler

Due to absolutist ideals and believing he is justice incarnate, Nago has an intense hatred for the Kiva, enough to ignore the Fangire he is currently fighting. Nago is later revealed to be Kamen Rider IXA, the only Rider of The Wonderful Aozora organization. After losing to Kiva initially, Nago becomes insane until the Powered IXER, the counterpart of Castle Dran, is created. Nago slowly regains his demeanor but still retains his animosity for Kiva. On some occasions, Nago has been able to put aside his hate for Kiva and fight together against a common enemy.
Spoiler

Eritate Kengo (Kumai Kouhei): Kengo is a rocker that Wataru meets into the series. They become friends when they form a band, with Kengo on the guitar and vocals, Wataru on the bass and vocals, and Shizuka on the drums. His dream is to make rock move people. After being saved by Wataru in Dogga Form, he becomes an avid fan of Kiva, much to Wataru's dismay. Later on, Kengo also becomes a fan of IXA as he watched Nago in action.
Recurring Villains
Checkmate Four:
This group is the elite of the Fangire. Their power is beyond that of ordinary ones, able to kill them without a sweat. Currently, only two have been revealed.
Rook: (under construction)
Bishop: (under construction)
Queen: (under construction)
Catchphrases
The slogan for
Kamen Rider Kiva
is currently "Wake up! Unleash the chains of fate!" (
Ueiku appu! Sadame no kusari o tokihanate!
)
Arsenal
Kamen Rider Kiva
Kiva's Fuestles:
Wake Up:
Garuru (Saber):
Basshaa (Magnum):
Dogga (Hammer):
Castle Dran:
Buroon Booster:
Tatsulot:
Machine Kivaa:
Kamen Rider IXA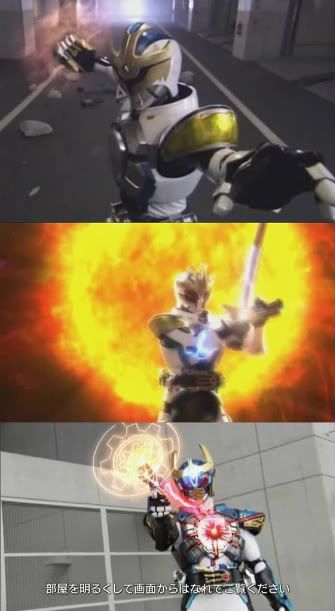 Forms from top to bottom: Save, Burst, Rising
1986 Form: Save
2008 Forms: Burst, Rising
IXA's Fuestles
Knuckle: (see Save Form) Activates IXA Knuckle Rise Up, shooting an energy ball. A weaker version can be used when the wielder is not in Rider Form.
Caliber: (see Burst Form) Activates IXA Caliber Rise Up, charging a powerful slash energized by solar power, unlike Kiva's lunar power.
Garuru Fake: Allows IXA to steal the Garuru Saber when summoned by Kiva. No visible form change, but nevertheless still formidable.
Basshaa Fake: Yet to be used, assumed to steal Basshaa Magnum from Kiva.
Dogga Fake: Yet to be used, assumed to steal Dogga Hammer from Kiva.
Powered IXER: Summons the Powered IXER, a mechanical dragon that rivals Castle Dran. Can launched balls like a catapult, grapple the Sabbat with its jaw, or even launch IXA for a powerful Rider Kick.
IXAlion: IXA's motorcycle. Unlike Kiva, IXA currently has no way of upgrading his cycle.
IXARiser: (see Rising Form) Allows IXA to become Rising Form, maximizing IXA's full potential. It is the mouth piece of Burst Mode, turning into a cell phone. Various number commands are used by IXA.
Trivia
Starting at episode two, Kivat has opened the episode by giving random facts about violins or Modigliani. Here you will find a list of all of them.
Episode 2:
Modigliani was a great artist born in Italy in 1884. His portraits have deep eyes that look upon you and long necks. His portrait of Jeanne is particularly famous.
Episode 3:
Historically, it's said the violin first appeared in the middle of the 16th century. The one who created the prototype for the violin was Gasparo da Salo of Italy, a nameless craftsmen.
Episode 4:
The world's most expensive violin was created by Italy's master craftsman Stradivari. Its name is Hammer. This violin was auctioned off for 400 million yen. 400 million yen!?
Episode 5:
Have you all heard this? A violin is made from trees, but it may be a different tree depending on which part. The front requires a soft tree. The side requires a hard tree! And people prefer the back to have a pretty grain pattern.
Episode 6:
Do you all know that violin comes from the Latin word vitula? It means "Goddess of Joy." In other words, a violin exists to make people happy. Goddess!
Episode 7:
Do you all know? It seems the violin came to Japan during the civil war. Back then, monks from Portugal taught Japanese children to play at Mass. Frois is the earliest-recorded person in Japanese history to do that. What do you think?!
Episode 8:
Everyone, did you know? French, Chinese, and Turkish cuisine are called the world's big 3 cuisines.
Episode 9:
During the bubble era, a rich Japanese person won van Gogh's "Portrait of Gachet" at an auction. It was the highest bid in history. That amount was an amazing 125 billion yen! So expensive!
Episode 10:
Whether a violin becomes famous or not depends on its varnish. The varnish does more than make it look attractive. It also makes it easier for the sound to be conveyed. Do you understand?
Episode 11:
Do you all know? Rock and roll appeared in the 1950's; it's America's music. It's said, its origins were a fusion of soul music and Ireland Celtic music. Hey man, I'm counting on you!
Episode 12:
(None)
Episode 13:
Everyone, do you know? Rock N' Roll comes from rock which means "to shake" combined with roll which means "to roll." It comes from the lively feeling of the music. Is everyone excited?
Episode 14:
Everyone, do you know? If you put the radical for "person" next to "dream," it becomes the word "ephemeral." That is how frail human dreams are. They probably can be broken easily.
Episode 15:
Everyone, do you know? Checkmate is a word from chess. It comes from the Persian word for "trapped king." Or "defeated king." Oh! What a good lesson!
Episode 16:
Everyone, did you know? A rook represents a tank; it's one of the pieces in chess. By the way, "cool" means "great." I am cool!
Episode 17:
Paganini was a brilliant violinist in the 19th century. He played so well that there was a rumor he sold his soul to the devil.
Episode 18:
Edison said, "one percent inspiration, 99 percent perspiration." But the genius Edison actually meant this: For that one percent insight, 99 percent hard work is needed. Inspiration!