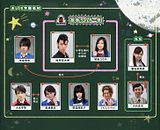 It really is like a school drama
So one thing that QC brought up and that also came up in a discussion with mag is how Utahoshi uses a ponderous number of English words. At the beginning of this episode, Gentarou accuses him of using katakana, which is kind of absurd in its own way. Since katakana is used for written forms of foreign words, and obviously Utahoshi is speaking these words aloud. It just doubly makes Gentarou look like he's a little thick.
So, count up the English words that Utahoshi can use! I guess it fits, since Utahoshi sees himself as being special compared to others. It makes him seem more condescending and douchey to just throw in a bunch of English words, even when the situation doesn't call for it.
Man, that goth girl really creeps me out. She's like... a scary old witch or something. Her verbal tics are just so weird and broken that they come off as really unnerving. Anyway, I told someone I'd post a pic of her looking normal. Her actor name is just Shiho, no last name: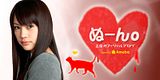 I also saw someone post this pic, commenting that he thought the main girl was Amane-chan from Blade: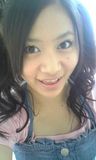 I think this is a pic of Amane and not of Yuuki.