Meant to have this in the post last week: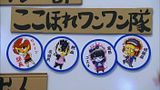 The fun digging group: Queen/President, Hot-headed Friendship man, Spiritual sense Goth girl, Info guy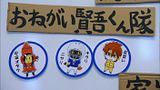 Kengo-kun appeal group: Space otaku, Shine shine, Apprentice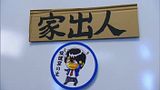 Run away from home: Regular at the infirmary
Miu mentions an AO admission which I had to look up:
This was mostly pioneered by Keio University, and hey, they have an English webpage:
http://www.sfc.keio.ac.jp/en/admissions ... pm_ei.html
They call it their "Self-recommended admission" on that page. I think it's basically an admission that focuses on the interview.
So far Libra's turned into people that the Switchers know. This is the first time it's someone else. (Who was that lady by the way? A suit actress? She was pretty good)
That's kind of funny. Just noticed that Haruka hits Kijima with the fan when she confiscates it.
Heh at the Shun face as he's at the drinking fountain. Guess he was exhausted from running.
http://d.hatena.ne.jp/keyword/%BC%F7%B8 ... F%B2%A4%EB
http://en.wikipedia.org/wiki/Jugemu
Fuck the Rakugo club. That long ass thing is the name of a kid from the Rakugo story Jugemu. The full name:
じゅげむじゅげむ ごこうのすりきれ かいじゃりすいぎょの すいぎょうまつうんらいまつふうらいまつ
くうねるところにすむところ やぶらこうじのぶらこうじ ぱいぽぱいぽぱいぽのしゅーりんがん
しゅーりんがんのぐーりんだい ぐーりんだいのぽんぽこぴーのぽんぽこなーの ちょうきゅうめいのちょうすけ
Jugemu Jugemu Gokou-no surikire Kaijarisuigyo-no Suigyoumatsu Unraimatsu Fuuraimatsu Kuunerutokoro-ni Sumutokoro Yaburakouji-no burakouji Paipopaipo Paipo-no-shuuringan Shuuringan-no Guurindai Guurindai-no Ponpokopii-no Ponpokonaa-no Choukyuumei-no Chousuke
And the joke about Tuesday is that it's the same phrase but different depending on the spacing/punctuation?
Nani? Kayou kai? "What? Tuesday?"
Nani ka you kai? "What can I do for you?"
Preview:

From the title for next week's episode:
Bagyaku 馬脚 【ばきゃく】 (exp,n) give oneself away, reveal one's true colors, reveal one's true colours
The kanji mean "horse leg"