By the way, if you have trouble reading the kanji, just hold down on the Ctrl key and rolling up with your mouse or hit Ctrl and +, it makes the text bigger. If you want to reset it, just hit Ctrl-0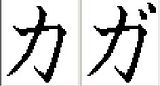 So today we're doing Ka and Ga. Whoa wait, two katakana? But it's actually the same katakana but with a small mark to note that it's pronounced slightly differently. The mark is there to show that the consonant needs to be voiced. It looks like a quotation mark and is called a dakuten which means "voiced mark". Because of this, there's really not that much to learn in the Japanese alphabet, because a lot of it repeats. It's kind of a fascinating evolution of linguistics since Ka and Ga are related linguistically and someone must have figured that out a long time ago and created the writing system to reflect that.

That article also says that apparently the dakuten mark wasn't used until the Tokugawa era, so written Japanese didn't distinguish between voiced and non-voiced consonants before. Confusing?! Imagine replacing all your g's with k's and your p's and b's with h's, etc.

Don't get this confused with Chikara/Power 力 and Kyuu/nine 九

カー Ka-a (n) car, (P)
カブト Ka-bu-to
カノン Ka-no-n Yup, "no" is still that one line
ルカ Ru-ka Luka R for l, yada yada
ガイ Ga-i
バーガー Ba-a-ga-a Burger

Kanji:



小 Shou Small. Don't forget the little hook in the middle line.

小さい Chii-sai Adjective for small. That's the hiragana for i by the way. い and イ

小学 Shou-gaku Elementary school

小型 Ko-gata Small model.

小人 Ko-bito Small person




中 Naka/chuu Medium, middle. Box with a line through it, makes sense to me

中学 Chuu-gaku Middle school

中国 Chuu-goku China. Literally the middle kingdom. Hey, they developed kanji, after all

中国人 Chuu-goku-jin Chinese person. Yup, adding the kanji for "person" after something works this way.

中型 Chuu-gata Medium sized model




大 Dai/Oo Big. Remember when I said 天 is a "person" under a line, it's actually "big" under a line. "Person" doesn't have that line through it

Is the Dai in DaiRanger big? I dunno, since DaiRanger is written in katakana. Also, this is the kanji that you sometimes see on fire in the Japanese mountains

大学 Dai-gaku College/university. By the way, high school is 高校 Koukou, from the kanji "high/tall" and "school"

大い Oo-i Adjective big.

大いなる力 Ooi naru chikara "The power which is big" or Grand Power as we translate it.

大獣神 Dai-Jyuu-Jin "Big beast god" or DaiZyuJin in ZyuRanger. Yeah, depending on the kanji, sometimes jin is god or it's person. I made that mistake just now, actually

大戦 Tai-sen Great war, great battle. Kamen Rider x Kamen Rider Taisen 2010?!

大佐 Tai-sa 【たいさ】 (n) colonel, (navy) captain, (P)
Well, it's not always pronounced dai

中佐 Chuu-sa 【ちゅうさ】 (n) lieutenant colonel, commander (navy), (P)

少佐 Shou-sa 【しょうさ】 (n) major, lieutenant commander, wing commander, (P)
Note the line under shou, this is a different kanji. Used in familiar things like 少年 Shou-nen young man or 少女 Shou-jo young woman.

I just thought I'd point out that the rankings in Japanese are obvious which one is lowest rank and which one is highest. I don't know how the fuck the rankings work in English. I guess it's just something you have to memorize?




最 Sai Most, extreme. Kind of a complicated kanji for this level, but I think it's worth noting. Just try to memorize its shape. On top you have the kanji for sun. On the bottom left you have the kanji for ear 耳 and on the bottom right you have the kanji for again又

最も Motto-mo most, extremely. The mo here is hiragana. I just thought I'd throw that in here to show how one hiragana can greatly change its sound

最小 Sai-shou smallest, least

最中 Sai-chuu OR sa-naka middle, midst, height of. I don't know if saichuu and sanaka are interchangeable since their definitions are so similar. There might be conditionals for which one is used during certain times

最大 Sai-dai Biggest, maximum

Now that that's out of the way...

宇宙最大の宝 U-chuu Sai-dai no Takara The Greatest Treasure in the Universe. Also could be interpreted as "the biggest treasure in the universe"

サイダイオー Sa-i-da-i-o-u Well, this is in katakana, so its meaning is open to interpretation. I mean, sai means rhino, which we know from OOO. But in this robot form, if it had kanji it's probably 最大王 sai-dai-ou or "the biggest king". Of course the pun for sai being rhino fits in there as well.