Ahh I probably shouldn't create two topics in such quick succession, but I remembered this after making the BL post, and I couldn't resist. I watched the Taiwanese drama based off of Hanazakari no Kimi-tachi He a while ago... and it wasn't until a friend of mine mentioned it was an anime and a live J-Drama that I actually went to the trouble of looking it up. I haven't watched much of the Japanese version, but I did watch enough to notice one thing.
There is a surplus of Kamen Riders in this show (and that's only based off of the three that I've seen: Den-O, Kabuto, and Kiva; there could be more).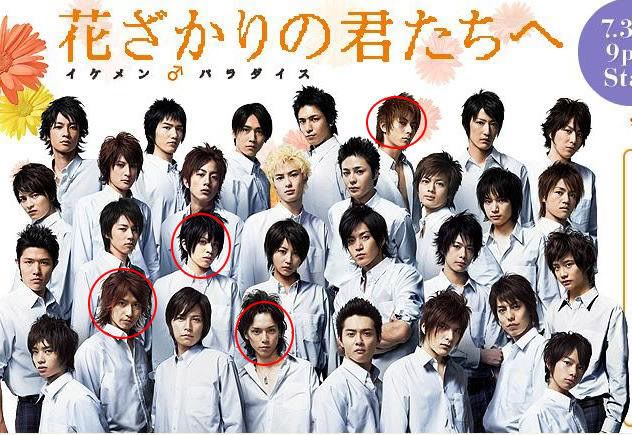 L--> R
Takeda Kouhei (Kurenai Otoya; Kamen Rider Kiva)
Yamamoto Yuusuke (Kamishiro Tsurugi; Kamen Rider Kabuto)
Mizushima Hiro (Tendou Souji; Kamen Rider Kabuto)
Kato Keisuke (Nago Keisuke; Kamen Rider Kiva)
Seeing Mizushima Hiro act like a pervert was nigh mind-blowing, really.
Edit:
Lol. I was just staring at the picture, and I noticed one of the guys looked familiar... thinking, "Hmm, he looks a bit like Sousuke from Go-Onger." So I investigated... yep. It's Furuhara Yasuhisa, alright....