I like the weapon switch between Joe, Don, and HurricaneYellow where Don ends up with nothing.
Oh hey, it's a beloved reunion with Sid... oh wait, this isn't a Joe episode so there's none of that here. That's... sorta lame.
The joint attack between the two reds is pretty good.
Hate to say it, but the shine on Gold Mode has kind of worn off.
The Japanese wordplay really shines here.
But some of the "puns" aren't even really that. They're just regular Japanese terms that seem weird if you scrutinize them. Like:
Jigoku-mimi 地獄耳 【じごくみみ】 (n) sharp ear, long ears
This is the kind of thing we joked about back in college. It's such a bizarre term, but all it really means is that one has really good hearing.
Or Shirimochi 尻餠 【しりもち】 (n) falling on one's backside (behind, bottom)
Just butt+mochi
Dongaragashaan ドンガラガッシャーン I guess this is a net term that's just an onomatopoeia to represent onomatopoeia
http://dic.nicovideo.jp/a/%E3%81%A9%E3% ... C%E3%82%93
Just to cover all grounds mugen 無限 means "infinite" or literally "unlimited". But you probably knew that, you're a smart boy. I trust you.
Some Hurricaneger stuff:
Hayatemaru 疾風丸 The name of their sword. Hopefully you guys remember my explanation about -maru. Hayate just means "Hurricane" and I believe the main Hurricaneger group are from the Hayate School.
In the Hurricaneger series, the ranger team were referred to as "legendary successors" 伝説後継者. To see them pass that title along was really nice.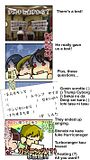 I also found this funny comic while looking up something someone in QC said
http://homepage1.nifty.com/keidora/hcara/jus/juss4.html
It's a comic that crosses over Hurricaneger with JustiRisers. Translation in the spoiler tags:
Spoiler

Title: Legendary Successors

First Panel:
Shurikenger: Hey, you-tachi look like Hurricanegers!

Kabuto face: They sort of do, now that you mention it.

Kuwagata face: Plus the blue one is also a girl, Aniki.

Second panel:
Riser Glen: Hurricanegers, eh?

Third panel:
HurricaneRed: So I'm HurricaneRed. Yeah, I see our colors are pretty similar.

Fourth panel:
HurricaneBlue: I am HurricaneBlue. I help out as a fellow ninja warrior.

Fifth panel:
Riser Gant: So that means I'm HurricaneYellow...

Sixth panel:
Gant: I don't want to be this plain guy!
Kageri: Hey, calm down.
Glen: Don't worry, you don't resemble him.