Mahou Sentai MagiRanger (2005-2006)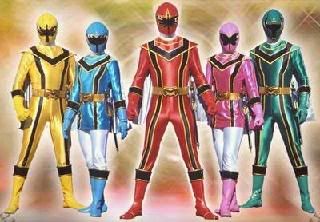 Mahou Sentai MagiRanger is the 29th Super Sentai series. It began in 2005 and ended in the beginning of 2006.
Sypnosis
A war between the Infershia and Magitopia had occurred unbeknownst to humans. After being imprisoned within the Earth for fifteen years, the Infershia have returned to get revenge from their imprisonment. In the meantime, five children (three brothers and two sisters) of the Ozu family, who lived peacefully with their mother and believing that their father died in an expedition in Antarctica, learned the truth and receives the MagiPhones to transform into a team of heroes who used magic as their power. Now endowed with magic powers, these five vow to live up to their family's legacy, as well as learning much more powerful spells.
MagiRangers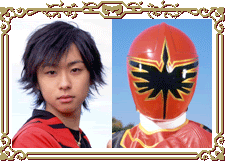 Ozu Kai (MagiRed) - portrayed by Hashimoto Atsushi. Kai is the youngest of the siblings and is still attending high-school. While transformed as MagiRed, he wields the element of fire. His profession is at playing soccer. However, he can act very stubborn against his older brothers, but nevertheless is very courageous and brave. He also has a knowledge of alchemy.
Ozu Tsubasa (MagiYellow) - portrayed by Matsumoto Hiroya. Tsubasa is the middle son of the Ozu family. He always tries to keep his cool, but also acts quite arrogant and sarcastic. While transformed as MagiYellow, he wields the element of thunder. Outside of battle, Tsubasa is very strong at making potions.
Ozu Urara (MagiBlue) - portrayed by Kai Asami. Urara is the youngest daughter and the middle child of the Ozu family. She often is quiet and calm; when she speaks, it is usually important and for a good reason. While transformed as MagiBlue, Urara controls the element of water. Outside of battle, her main strength is fortune-telling.
Ozu Houka (MagiPink) - portrayed by Beppu Ayumi. Houka is the eldest daughter and the second oldest child of the Ozu family. She is often the complete opposite of Urara, being talkactive, loud, as well as flirtatious with boys. She often considers herself as a love expert, although Kai cares to disagree. While transformed as MagiPink, Houka controls the element of wind. Another remarkable part of Houka, is that she can transform into any other object (although they become very obvious that it is Houka).
Ozu Makito (MagiGreen) - portrayed by Ito Yuuki. Makito is the eldest son of the Ozu family. He is often hardworking, responsible, and often considered a father figure for the family. He runs his own farm called "Aniki Farm", where he spends his time growing fruits and vegetables. While transformed as MagiGreen, Makito controls the power of Earth. He can also communicate with herbs as one of his remarkable traits.
Ozu Miyuki (MagiMother) - portrayed by Watanabe Azusa. Miyuki is the mother of the five childrens. After her husband disappeared, she had been living with her childrens, fearing that one day for certain that Infershia will revive. Her element as a MagiRanger is ice.
Allies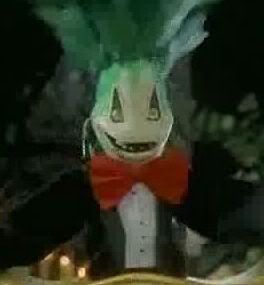 Mandora Boy - A young Mandrake that the MagiRangers met. Despite being in a pot, he can hop around as well as fly. He can even be plucked out of the pot, which will cause him to emit a cry, though the experience comes to him as painful. He has a tendency to end most of his sentences with "de gozarimasu desu!" or "de gozarimasu desu yo!". He will often give advice to the team.
(Okay, this is not how she actually appears in the show. This is just a picture of her actress.)
Yamazaki Yuka (portrayed by Hirata Kaoru). Yamazaki Yuka is a recurring character over the series and is the manager of Kai's soccer team. Kai has a strong crush on her, but Yamazaki soon falls in love with someone that Kai knows all too well!
Villians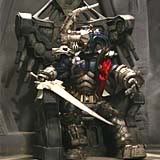 Branken - A high commander of Infershia. He is easily angered and attacks any member of Infershia below his rank. He also doesn't get along with Wolzard's justified way of fighting the MagiRanger at times.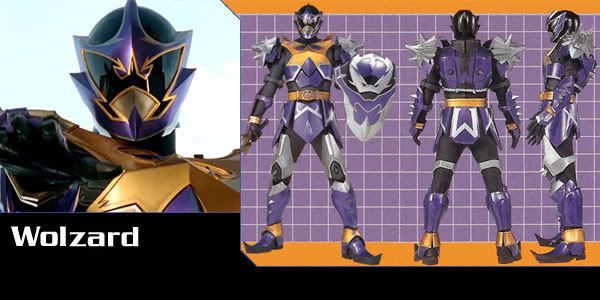 Wolzard - A recurring villian throughout the series. Wolzard is considered a black wizard who ranks high in Infershia with a mysterious background. Despite being a powerful enemy, he often fights with respect. He loves watching the MagiRangers grow stronger so that they can become worthy of him to defeat.
Vancuria (Nai and Mea) - Another recurring villian throughout the series. These two gothic-looking girls actually form a powerful vampire known as Vancuria, who is a powerful foe to the MagiRangers. When she is separated into the two human-looking girls, the two are known as Nai and Mea (which plays on the pun of the word "Nightmare").
Weapons
MagiRed - He can engulf his body into flames and attack his enemies as a phoenix.
MagiYellow - He can summon thunderbolts from the sky.
MagiBlue - She can create a powerful stream of water or exploding geysers.
MagiPink - She often transforms into a fan who can blow strong winds. She can also transform into a cannon that she can launch attacks if one of her siblings are placed inside.
MagiGreen - He can control herbs and use vines and grass to trap his opponent. His main weapon is also MagiStick Axe.
Reasons to Watch
MagiRanger creates a powerful story with a family of children. As the story goes on, we see not only how they can work together and fight evil, but see how they can get along as a family. Each actor/actress portrayed their character very well, making this a very enjoyable season. At times, there are also comedy.