Salami Commander
Posts: 511
Joined: Tue Mar 18, 2008 7:15 am
Gender: Apache Attack Helicopter
Favorite series: Decade
2nd Favorite Series: Kabuto
Dreamy: Smart Brain Lady
Favorite Band: Bennie K
Alignment: Chaotic Good
Contact:
did the auto scheduler mess up and it was supposed to be 4/1 instead of 5/1?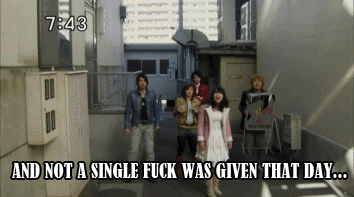 Go Go!
Posts: 58
Joined: Thu May 30, 2019 5:03 am
Quote: I'm a Kamen Rider
ZAIA Tool

Posts: 891
Joined: Tue Mar 26, 2013 2:32 pm
Is this late for this year or 11 months early for next year? Or is the joke that we're all fooled into thinking it's April?
Seen:
Super Sentai: Zyuranger onwards
Kamen Rider: Ichigou-Skyrider, and all the Heisei/Reiwa series except the American shows.
Precure: DokiDoki-Go Pri
Metal Heroes: Gavan
Other: Spiderman

Current watching: Chikyu Sentai Fiveman
Sentai Senshi
Posts: 161
Joined: Wed Jun 13, 2018 12:57 am
Favorite series: Engine Sentai Go-Onger
Contact:
Ah yes! May Fool's

The April Fool's episode catches me by surprise every year, and every year it's a banger.
Great work guys!
CheetahLynx
I was gonna list all the series I've watched but there's a 255 character limit. ¯\_(ツ)_/¯ Oh well.
Oh, nice <3
I was hoping there would still be one this year
BTW I once tried mopping like Tarou did in this episode and I almost immediately slipped on the wet trail and slammed into the floor.
I don't think this is an actually good technique.
Bottle Shaker
Posts: 10620
Joined: Sat Jan 12, 2008 9:09 am
Favorite series: Magiranger
2nd Favorite Series: Gekiranger
Location: Japan
It only really works on hardwood floors, and you do need to get a knack for it first. Honestly Taro shouldn't be able to do it on what looks like a concrete floor. (Also hello? mops were invented for a reason)
I appreciate the meta joke of releasing the April Fool's video a month late, thereby pranking us on the actual April Fool's Day. That was your intention, right?

This was another humorous video that now has me craving donuts (thanks a lot!). I especially liked the bit about firing Momoi for downloading porn on company computers. That alone was a good gag, but then to follow it up with a picture of the Waku Pink made it epic.

Team Baron

Posts: 35013
Joined: Mon Dec 10, 2007 8:33 pm
Gender: Toast
Favorite series: All of them
Alignment: Neutral
My boom: stick
Quote: "Are you the new monarch, or are you just a pawn of fate?" - Emerald Herald
Type: ISFJ Protector
Location: Yami ni umare, yami ni kisu
Contact:
Thank Luna and Davinci for making that joke happen. Apparently the code for making transparent png work is more complicated than I thought!

This was also my first year of doing the initial script writing for the jokes. Usually this is Luna's baby, but she was busy this year. Hopefully I was funny! (I bugged a lot of people in QC to contribute ojkes too so it's not just me though)