Wiki
Next >
DonBrothers finale rating: A respectable 4.4 of 5 stars (15 votes)
The series had a high of 4.71 with ep 4 the onigiri episode. A series low of 3.29 with ep 32, duel 2, guess people didn't like how meta that ep was.
Viewer average for episodes overall is 4.14/5. Raw data:
https://docs.google.com/spreadsheets/d/ ... sp=sharing
There's a bug language in this series too? Did Toei hire a linguist or something? I like how the little chracters look like bugs
Hmmm, that's a nice map. 5 rings, like the olympics that never happened
Hmm, language at 118 looks a bit different from that at the beginning. Also, got to love generic European town with only Japanese people and a weird CGI background
Oh hey, it's weirdo ancient Japan. /me breaks his neck trying to read the kanji on the fan. Dude's got rice on his face and kuroko with weird faces on their masks in the bg
Snow kingdom seems not quite as populated as the rest
Did the effect guy forget to include fireworks sounds at 4:27?
Is the blue sidekick that kid from Zi-O?
I can't get over the silly mask Kuroko
I was thinking this when downloading the cast pics, but there sure are a lot of side characters. Hope they are used well in this story
LOL, this red spends his time playing with kids? Will we see this family, that girl, and those kids again?
There it is, Toei's CGI circle room
/me cranes his head to look at the ?clocks in the bacgkround
Wait, are there two reds? What's going on
hahahaha. Oh no, it's attack on titans. Everyone is going to make this joke
Efficient transformation
You guys didn't pick up on this giant army approaching till they reached the gates? Maybe blue should be in charge
The grunts bleed in this sentai
The red king here ain't no Palpatine
Speech is the slightest bit cringe, but this BGM is good
Wait, how many things does he have to fuck with to transform?
Wow, that cockpit thing lowering... that's... something
Ooh, king-ohger theme too. Wow, this nobody has become a titan on his first try
Just realized blue's headphones have got the cat ears
Red, maybe try to lower the collateral damage, not add to it
Okay, I think I hate this cockpit. Seeing the sword on the robo arm is pretty dumb
For the first episode, I'm intrigued! I had no idea red was a nobody who wants to be king rather than someone who starts as a king. The world building is acceptable. It's certainly better than Ryusoulger and it's one village of discardable forgettables. Or maybe they all died in the first attack? Don't remember since they never show up again
While solid for a first episode, I'm a little worried about the size of the extended cast being too unwieldy storywise. I mean, we basically know nothing about the named villains (besides king red being a secondary villain force?) I see the girl and the boy are listed in the character list, so they'll be around
So is Kira, I mean Gira the actual king? Pauper and king swapped at birth? Secret brothers? Royal family was ousted by the current villains?
One other downside to a packed first episode is we also know barely anything about purple and blue, and just the barest of character traits for blue and yellow. But that can be addressed with the fullness of time
Not the trashfire that I thought it'd be 4/5 crowns
Edit:
Stray observation, bee/black's kingdom symbol is a
komon
kamon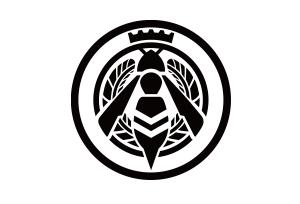 Meanwhile, the bad guy's logo is one of the most confusing clusterfucks I've ever seen. Did an AI generate this? WTF: